The Family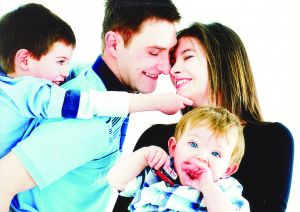 The Family: A Proclamation to the World
Marriage between a man and a woman is ordained of God and that the family is central to the Creator's plan for the eternal destiny of His children.
The Family
Elder Henry B. Eyring discusses The Family: A Proclamation to the World.
The Eternal Family
Elder Robert D. Hales discusses eternal family units in light of The Family: A Proclamation to the World.
The Joy of Living the Great Plan of Happiness
Elder Richard G. Scott discusses the importance of the family in achieving true happiness.
Families - It's About Time
Virginia U. Jensen discusses the importance of "time" in building an eternal family.
Teachings about the Family
The basic unit of The Church of Jesus Christ of Latter-day Saints is the family. "The home is the basis of a righteous life, and no other instrumentality can take its place nor fulfill its essential functions" (David O. McKay).
Family Life
The inherent emphasis on family in Latter-day Saint theology is expressed in demographic patterns that are different for Mormons compared to the general population." Encyclopedia of Mormonism
Sexuality
In LDS life and thought, sexuality consists of attitudes, feelings, and desires that are God-given and central to God's plan for his children, but they are not the central motivating force in human action. Sexual feelings are to be governed by each individual within boundaries the Lord has set.
Brotherhood
While members of other Christian denominations may speak metaphorically of all humankind being brothers and sisters and children of God, Latter-day Saints believe it literally in the sense that a Father in Heaven and a Mother in Heaven created spirit children in a premortal existence." Encyclopedia of Mormonism
Abuse of Spouse and Child
Individuals who abuse their spouses or children violate the laws of both God and society.
The family is the most important unit of our society. This page is designed to provide ideas and resources to strengthen our families.
Copyright © 2010 LightPlanet.com