Mormon Art
by Martha Moffitt Peacock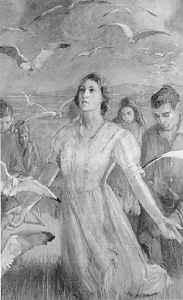 The Miracle of the Gulls, by Minerva K. Teichert (1936, oil on canvas, 40" x 46"). In the early years following the arrival of the Mormon pioneers in the Salt Lake Vallye, infestations of crickets threatened their badly needed crops. The arrival of seagulls, who ate the crickets, saved much of the harvest. The event has become known as the "miracle of the gulls."
From the earliest days of the Church, its leaders have recognized the significant role art plays in enlightening and inspiring Church members. For this reason, the First Presidency encouraged a group of young artists to study in France in the 1880s. They brought back both new artistic skills and an enthusiasm for the art they had seen in Europe. The many temple murals and other paintings done by these artists continue to educate, encourage, and inspire generations of Latter-day Saints. Because Mormon art has been primarily oriented toward service in the Church, much of it has been didactic. Artworks have been used to help teach gospel principles. Images illustrating Book of Mormon and Church history events have become familiar reminders of them. Artworks are also used to teach non-Mormons about Church history and doctrine.
The Church has supported the production of art vocally by pronouncement from the pulpit and financially by purchasing artwork for most of its buildings other than meetinghouses. It has established a Church art museum, which provides exhibition space for past and present LDS artists. Additionally, it sponsors an annual art competition. Many of its leaders, especially President Spencer W. Kimball (1972-1985), have challenged Church members to develop their artistic talents so that they can tell the story of the Church in art. Many LDS artists have accepted the challenge and are trying to create art that is both instructive and spiritually inspiring. Consequently, much LDS art has to do with things peculiar to the heritage of the Church and the LDS experience.
The purposes of inspiration and encouragement are equally important to the purpose of instruction in LDS art. Whether it is conveyed through a painted landscape or a sculpted human figure in solitary prayer, the spirit of LDS art is essentially the same: it evokes a sense of the goodness of God and of a belief in his eternal plan for mankind. It is this overarching philosophy, this spiritual perspective, that binds LDS artists together.
Even though LDS artists have been aware of contemporary trends in art, they have generally chosen not to follow the current avant-garde fashion. They have tried to relate their art in a pervasive, eternal sense to concerns that continually affect mankind. Their quest consists of the attempt to translate their religious ideals into their various mediums. Their search thus takes them on a different path from that of many other artists and attempts to lead them to the spiritual sources of their beliefs. Feeling that they will reach their goals only through direct access to this spiritual source, LDS artists seek inspiration as a means of attaining this quality in their art. For them, painting or sculpting is a private activity imbued with purpose that affects more than their artistic lives. By conducting their lives with a sense of truth and integrity, they hope to be brought closer to this spiritual core.
Much discussion about a "Mormon aesthetic" has taken place in recent years, but it seems that the very personal nature of this spiritual artistic quest prevents the attainment of a prevalent aesthetic. LDS artists are now found in many parts of the world, and their diverse cultures are providing the input of a wide variety of heritages. While LDS art is characterized by stylistic diversity, it also shows certain common features because of the shared faith of the artists.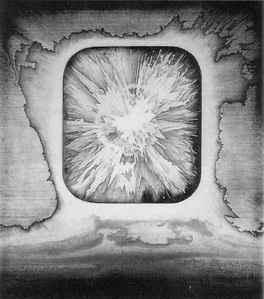 Lux Aeterna, pencil and graphite drawing, by Hagen G. Haltern (1989). An LDS artist, Haltern strives to integrate artistic representation of eternal reality based on five levels of meaning detectable in Exodus 31:1-4 (the anagogical, allegorical, legal, literal, and practical). Courtesy Hagen G. Haltern.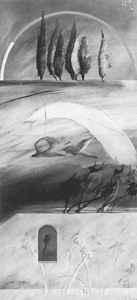 Alpha and Omega: On My Way Home, by Wulf Barsch (1985, oil on paper, 24" x 50"). This LDS artist uses images from Utah landscapes and a stylized Alpha and Omega to depict a sense of mankind's eternal journal homeward to God. Courtesy Church Museum of History and Art.
Bibliography
Bradshaw, Merrill K. "Toward a Mormon Aesthetic." BYU Studies 21 (Winter 1981):91-99.
Carmer, Carl. "A Panorama of Mormon Life." Art in America 58 (May-June 1970):52-65.
Packer, Boyd K. "The Arts and the Spirit of the Lord." BYU Studies 16 (Summer 1976):575-88.
"A Portfolio of Mormon Painters." Ensign 7 (July 1977):39-57.
Wheelwright, Lorin F., and Lael J. Woodbury, eds. Mormon Arts. Provo, Utah, 1972.
Young, Mahonri Sharp. "Mormon Art and Architecture." Art in America 58 (May-June 1970):66-69.