Christus Statue
by Florance S. Jacobsen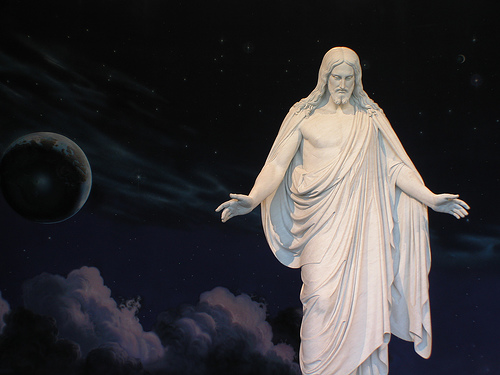 Christus, by Bertel Thorvaldsen (c. 1965, carrara marble replica of 1821 original, 3.36 m), in the North Visitors Center, Temple Square, Salt Lake City. Thorvaldsen's statue of the resurrected Christ helps present LDS belief in Jesus Christ, the son of God and redeemer of the world. It stands in a rotunda before a mural of the universe to show that "by him, and through him, and of him, the worlds are and were created" (D&C 76:24).
Replicas of the Christus statue by Danish sculptor Bertel Thorvaldsen (1768-1844) are located in several LDS visitors centers. These white carrara marble statues of Christ, with his hands outstretched, inviting all to come to him, help present the central doctrine of the Church: that Jesus of Nazareth is the Son of God and the Savior and Redeemer of the world. (See Teachings About Jesus Christ home page)
The first such statue acquired by the Church was a gift of Stephen L Richards, First Counselor to President David O. McKay (1951-1959). In 1966 this heroic-size (11 feet, 1 inch) Christus was placed in the North Visitors Center on Temple Square in Salt Lake City.
The second Christus was commissioned for display in the Church's pavilion at the New York World's Fair (1964-1965) and was sculpted by Aldo Rebachi of Florence, Italy. It was intended to help visitors understand that Latter-day Saints (or Mormons) are Christians. (See Are Mormons Christians? home page) This statue was later placed in the Visitors Center on the grounds of the Los Angeles Temple.
Additional Christus statues are currently located at visitors centers adjacent to temples in New Zealand; Hawaii; Mexico City; Washington, D.C.; and Mesa, Arizona.
(See Daily Living home page; Church History home page)
Bibliography
Marshall, Richard J. "Mormon Pavilion at the New York World's Fair…A Progress Report." IE 68 (Apr. 1965):290-97, 334-35.
Sheridan, Luise. "Bertel Thorvaldsen: Creator of Christus." IE 67 (Apr. 1964):272-75, 307.
Top, Brent L. "Legacy of the Mormon Pavilion New York World's Fair." Ensign 19 (Oct. 1989):22-28.