Mormon Pageants
by Lael J. Woodbury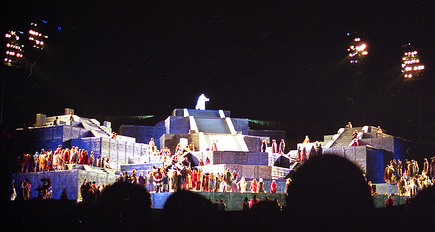 Image of the Hill Cumorah Pageant, courtesy of Aquistbe
In the Church, pageants are outdoor theatrical productions that celebrate a place, person, or event in religious history. Some pageants depict the earthly mission of the Savior and his dealings with covenant peoples in Jerusalem and the New World, both before and after his resurrection. Other pageants dramatize some historical aspect of how the Church in this dispensation fulfills its mission of taking the gospel of Jesus Christ to every nation, kindred, tongue, and people (cf. Rev. 14:6).
Most pageants are initiated and sponsored by local Church leaders and carried out by Church members who reside in the area where the pageant is performed. They are usually presented out-of-doors on temporary stages on the site of the event or on or near the grounds of LDS temples. Typically they present a sequence of short but elaborate scenes that unseen speakers narrate over an audio system. The pageants often feature original music prerecorded by a professional orchestra and delivered through an audio system powerful enough to be heard for several hundred meters. Pageant casts consist of businessmen, homemakers, teenagers, children, college students, grandparents, craftsmen, and professional actors whose involvement is voluntary and without remuneration. Each pageant is typically presented for about seven performances to as many as 20,000 people at a single performance. No admission fee is charged.
LDS pageants often feature appropriately costumed casts of as many as 600 performers, and may include live orchestras, choirs, and dancers. Each pageant is different in form as well as content. The "City of Joseph" pageant in Nauvoo, Illinois, is a conventional musical play. The Calgary (Canada) Nativity Pageant in December portrays how the Savior's birth is a blessing to all peoples. "The Man Who Knew," in Clarkston, Utah, is a narrative drama about the life of Martin Harris.
The Cumorah Pageant, near Rochester, New York, has been presented at the hill Cumorah since 1937. It depicts how Joseph Smith learned about and acquired the plates of gold from which the Book of Mormon was translated and it presents a dramatized sampling of some of the epic events and prophecies described in them. Cast members include young adults called from other areas of the Church to participate in the July-August productions. Other pageants, such as at the Manti, Utah, or Oakland, California, temples, depict the restoration of the gospel. The Mesa, Arizona, pageant presents the story of the Savior's life. Other pageants are performed in Independence, Missouri; Castle Valley, Utah; and Auckland, New Zealand.
[See Daily Living home page; The Arts home page.]