Visual Arts
by Richard G. Oman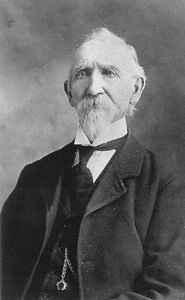 C. C. A. Christensen (1831-1912), a Danish convert trained at the Royal Academy of Fine Arts in Copenhagen, created a series of Mormon history panoramas and used them to give missionary lectures. He also painted murals in the Manti and St. George temples. From the Brigham Young University photograph collection. Courtesy Nelson Wadsworth.
While the work of LDS artists encompasses many historical and cultural styles, its unity derives from their shared religious beliefs and from recurring LDS religious themes in their works. The absence of an official liturgical art has kept the Church from directing its artists into specified stylistic traditions. This has been especially conducive to variety in art as the Church has expanded into many different cultures, with differing artistic styles and traditions. Some of the aesthetic constants of LDS artists are the narrative tradition in painting, a reverence for nature, absence of nihilism, support of traditional societal values, respect for the human body, a strong sense of aesthetic structure, and rigorous craftsmanship.
The history of LDS painters begins in Nauvoo in the 1840s, in the second decade following the establishment of the LDS Church (1830). Two factors especially influenced the early development of an artistic tradition within this small, new church on the American frontier: missionary work abroad and the desire of new converts to join the main body of the members.
The first two LDS painters, both English converts, were Sutcliffe Maudsley (1809-1881), from Lancashire, and William W. Major (1804-1854), from Bristol. Maudsley painted the earliest portraits among the Latter-day Saints—primitive but accurate profiles of members of the Smith family in Nauvoo. Major, who crossed the plains in 1848, was the earliest painter in the Utah Territory. His most famous painting, begun in Winter Quarters and completed in the Salt Lake Valley, depicts Brigham Young and his family in the stagelike interior of an imaginary English mansion, an attempt to transplant to the American frontier a British art tradition that goes back to Gainsborough.
In 1853 another English convert painter, Frederick H. Piercy (1830-1891), journeyed to Utah, making detailed sketches and watercolor drawings along the way to illustrate an LDS emigrant guide book, Route from Liverpool to Great Salt Lake Valley. This visual record is the earliest extant series showing the Mormon route. Many of its original paintings and drawings are in the Boston Museum of Fine Arts.
Over the next quarter of a century, many more British converts who were artists, most with limited formal education and modest art training in England, migrated to Utah. Almost all of them painted the mountains and the Great Salt Lake in the exaggerated and romantic styles then popular in England. Romantic landscapes were linked to their religious faith. They saw the face of the Lord in nature and Zion in the purity of the western wilderness. Very few of these early works by British converts depict genre or historical subjects. A major exception is the huge painting of Joseph Smith preaching to the Indians done for the Salt Lake Temple by London-born William Armitage (1817-1890).
Other prominent English convert painters from this period were Alfred Lambourne (1850-1926) and Henry Lavender Adolphus Culmer (1854-1914). Culmer received the most national recognition, primarily through his large paintings of the canyons and deserts of southern Utah published in the March 1907 issue of the National Geographic Magazine.
Contemporaneous Scandinavian convert painters included C. C. A. (Carl Christian Anton) Christensen (1831-1912), from Denmark, and Danquart A. Weggeland (1827-1918), from Norway. Both were trained at the Royal Academy of Art in Copenhagen and favored historical and genre paintings. Christensen's Mormon Panorama is the most significant series of LDS historical paintings from the nineteenth century. It includes twenty-three tempera paintings, each six feet by ten feet, recounting the pre-Utah History of the Church in epic dimensions. These paintings have been widely published (Art in America 58 [May-June 1970]:52-65) and exhibited (Whitney Museum of American Art, 1970).
An American-born painter in this early period was George M. Ottinger (1833-1917), from Philadelphia. His art includes both historical and landscape painting.
In 1890 the Church called some of the most skilled younger LDS painters to study in Paris. These "art missionaries," John Hafen (1856-1910), Lorus Pratt (1855-1923), John B. Fairbanks (1855-1940), Edwin Evans (1860-1946), and Herman H. Haag (1871-1895), studied art to prepare to paint the murals in the Salt Lake Temple. They studied academic figure drawing formally and impressionism informally. Other artists who also studied in Paris in this early period were James T. Harwood (1860-1940) and John W. Clawson (1858-1936), a grandson of Brigham Young.
These artists returned to Utah to paint and teach, and then sent their best students to Paris to study. This second wave included Mahonri M. Young (1877-1957), also a grandson of Brigham Young, and Donald Beauregard (1884-1914). Young returned to Utah and then went to New York City, where he taught at the Art Students League. In his lifetime he developed a national reputation as a sculptor and graphic artist. Beauregard spent most of his short artistic life in New Mexico, contributing to the early Santa Fe art tradition.
With the coming of World War I, the center of training for Utah painters shifted from Paris to New York City. The two most significant LDS artists of this period were Minerva K. Teichert (1888-1976) and LeConte Stewart (1891-1990). Both sought to celebrate their faith and tradition artistically, but in different ways. Teichert painted historical and genre scenes from LDS and western history and religious scenes from the Book of Mormon, while Stewart celebrated the pioneer landscape of Utah.
The next major leaders in LDS painting were Arnold Friberg (b. 1913) from Illinois, and Alvin Gittens (1921-1981), a convert from England. Both taught at the University of Utah. Friberg's most significant commissions included work for Cecil B. DeMille's Ten Commandments (for which he was nominated for an Academy Award), a series of scenes from the Book of Mormon, and portraits of Great Britain's Prince Charles and Queen Elizabeth II. Gittens was best known as a portrait painter and a teacher. He put his students through rigorous courses in anatomy and perspective when other art schools were emphasizing expressionism. Gittens was the region's preeminent portrait painter until his death.
In the early 1970s a new group of LDS painters began to form around Brigham Young University. These artists were particularly interested in exploring the interface between their religious faith and their art. The leading artists of the group were Gary E. Smith (b. 1942), a convert from Oregon; Dennis Smith (b. 1942) and William F. Whitaker, Jr. (b. 1943) from Utah; James Christensen (b. 1943) from California; and Trevor Southey (b. 1940), a convert from Zimbabwe. The Mormon Arts Festival, held annually at BYU from 1969 to 1984, served as a showplace for some of their best religious work.
Utah continues to attract LDS convert artists from outside the United States, and BYU has become a focus for this artistic immigration. Two of the most recent immigrant faculty are Wulf Barsh (b. 1943) from Germany and Soren Edsberg (b. 1945) from Denmark. Barsh, a winner of the 1975-1976 Prix de Rome, has built a national reputation from his strong semiabstract paintings, which often include LDS themes. Edsberg, the son of Knud Edsberg (b. 1911), a prominent Danish portrait and genre painter, has built a European reputation for his geometric paintings.
There are many other LDS painters who have not come to Utah. Giovanna Lacerti (b. 1935) and Pino Drago (b. 1947) from Italy and Johan Bentin (b. 1936) from Copenhagen are notable European LDS artists. Some of the most prominent Latin American and Caribbean LDS painters are Jorge Cocco (b. 1936) of Mexico, Antonio Madrid (b. 1949) of Panama, and Henri-Robert Bresil (b. 1952) from Haiti. They have produced important LDS paintings using artistic approaches totally different from their fellow LDS artists in Utah. Cocco and Madrid look to Spain for stylistic models. Bresil draws on the bright and exuberant folk tradition of Haiti.
In the South Pacific, Rei Hamon (b. around 1915), a part-Maori member of the Church from New Zealand, is an environmental artist. His tight stipple drawings celebrate his profoundly religious attachment to the land, plants, and animals of New Zealand.
In the American Southwest, many Native Americans have joined the Church as a result of missionary work going back to the 1850s. Some of the finest Hopi artists are LDS. Among the most prominent are Fannie Nampeyo Polacca (c. 1900-1987), her son Thomas (b. 1935), and Helen Naha (b. 1922), potters; Lowell Talishoma (b. 1950) and Emil Pooley (1908-1980), kachina carvers; and Wayne Sekaquaptewa (1923-1979) and Michael Sockyma (b. 1942), silversmiths. Among the Navajo, Lucy McKelvey (b. 1946) has a national reputation as a potter. Ida Redbird (1888-1971) is perhaps the most famous Maricopa potter. Among the Santa Clara, Christina (1892-1980) and Terrisita Naranjo (b. 1919) have national and international reputations as potters.
In Indonesia, where batik is the preeminent art form, Hadi Pranoto (b. 1937), from Java, is a respected batik artist. In Guatemala, where textile weaving is the main national art form, Juan Zarate (b. 1930), is an accomplished weaver.
Many Latter-day Saint women are fine quilters. Those with national reputations include Charlotte Anderson (b. 1952), from Kearns, Utah; Joyce Stewart (b. 1940), from Rexburg, Idaho; and Marva Dalebout (b. 1928), from St. George, Utah.
In the mountain West many LDS painters are known for their western and wildlife art. The rise of this art is part of a new self-confidence in a growing region of the country that is beginning to come of age. Jackson Hole, Wyoming; Santa Fe, New Mexico; and Scottsdale, Arizona, are significant centers of the American art market. The West, with its landscape, people, and animals, has become the wellspring of American mythology, and because many LDS people live in the West and have experienced much of the western heroic experience, western art has been a natural area of interest for them. Some of the leading LDS artists in this genre are Michael Coleman (b. 1946), Robert Duncan (b. 1941), Valoy Eaton (b. 1938), and Jim Norton (b. 1953), from Utah; Nancy Glazier (b. 1947) and Gary Carter (b. 1939), living in Montana; and Jim Wilcox (b. 1941), Harold Hopkinson (b. 1918), and Mel Fillerup (b. 1924), from Wyoming. Most paint in either a realist or an impressionist manner. In theme and intention, they are philosophical descendants of the early British and Scandinavian LDS immigrant artists who came west and were awed by the land but held to the epic tradition of which they were a part.
The geographical and cultural diversity of the LDS people has brought aesthetic variety to the LDS art tradition. The artists' shared religious faith and values have constantly infused that tradition with meaning.
Many works by LDS artists are displayed in the Museum of Church History and Art in Salt Lake City, which plays an important role in sharing LDS art with the world.
[See also Art in Mormonism; Musicians; Sculptors; Daily Living home page; Attitudes Towards the Arts home page.]
Illustrations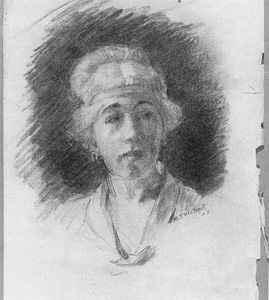 Self-Portrait, by Minerva Kohlepp Teichert (1937, graphite). Raised in Pocatello, Idaho, Minerva Teichert (1889-1976) studied art at the Art Institute of Chicago and the Art Students League in New York, then came home in 1917 to marry a Wyoming rancher. Throughout her life she painted scenes from the West and its people and from LDS history and scripture. Her impressionistic style is reflected in this self-portrait. Courtesy Museum of Fine Arts, Brigham Young University.
Bibliography
Gibbs, Linda Jones. Masterworks. Salt Lake City, 1984.
Gibbs, Linda Jones. Harvesting the Light: The Paris Art Mission and Beginnings of Utah Impressionism. Salt Lake City, 1987.
Haseltine, James L. 100 Years of Utah Painting. Salt Lake City, 1965.
Horne, Alice Merrill. Devotees and Their Shrines: A Hand Book of Utah Art. Salt Lake City, 1914.
Olpin, Robert S. Dictionary of Utah Art. Salt Lake City, 1980.
Oman, Richard G. "LDS Southwest Indian Art." Ensign 12 (Sept. 1982):33-48.
Oman, Richard G., and Richard L. Jensen. C. C. A. Christensen, 1831-1912: Mormon Immigrant Artist. Salt Lake City, 1984.
Piercy, Frederick H. Route from Liverpool to Great Salt Lake Valley. Liverpool, 1855.