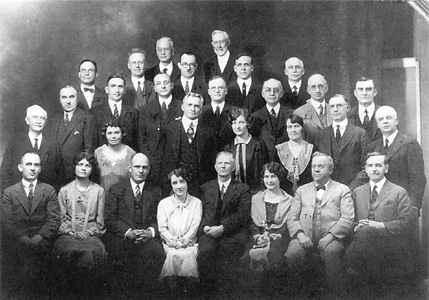 Deseret Sunday School general board (between 1918 and 1934). David O. McKay, general
superintendant of the Sunday School (center second row). Courtesy Rare Books
and Manuscripts, Brigham Young University.
by B. Lloyd Poelman
Sunday School in The Church of Jesus Christ of Latter-day Saints is held weekly in each local ward or branch. It lasts about an hour. Each Sunday, ward members assemble at the meetinghouse chapel for prayer and hymn singing, following which those twelve years and older attend age-group classes for religious instruction while younger children attend primary. The Sunday School courses provide a forum for discussions, socialization, and the integration of gospel principles into everyday life. The adult curriculum includes a gospel doctrine course based on the standard works, a gospel essentials class, and elective alternative classes on family history, teacher development, and family relations. The courses of study between twelve and eighteen are coeducational and focus on gospel principles, teachings of the Savior, Church history, scripture study, and the lives and teachings of the modern prophets. Under the direction of a three-person Sunday School presidency in each ward or branch, members are called to serve as the course teachers, usually for a term of several years.
EARLIEST SUNDAY SCHOOLS. Following the organization of the Church in 1830, most Sunday gatherings were general meetings for all members and visitors. In good weather, large meetings were usually held outdoors. The Prophet Joseph Smith notes, for example, on July 3, 1842, at Nauvoo, Illinois, "This morning I preached at the grove to about 8,000 people" (HC 5:56). Smaller groups met in homes or other buildings. Those meetings typically included praying, singing, partaking of the Sacrament of the Lord's Supper, and preaching.
Before the exodus from Nauvoo that followed the martyrdom of joseph and Hyrum Smith in 1844, a few small Sunday School groups met regularly in scattered communities, notably in Nauvoo, Kirtland, and various cities in England. Only after the Saints arrived in the Salt Lake Valley in 1847, however, did Sunday School begin to take on its present form.
In May 1849, Richard ballantyne began plans to start a Sunday School to educate the young people in the principles of the gospel and the scriptures. Some years before, in his native Scotland, he had organized a Sunday School in the Relief Presbyterian Church of which he was then a member. Having no suitable place in his Salt Lake City neighborhood for such a gathering, Ballantyne built a structure to serve both as his home and a place to hold Sunday School. Today, a monument on the northeast corner of 100 West and 300 South streets in Salt Lake City commemorates the location of this first Sunday School. The original building was eighteen feet wide and twenty feet long, furnished with wooden benches, and warmed by a stone fireplace.
On Sunday, December 9, 1849, Ballantyne gathered a group of fifty children into his newly completed home for instruction from the scriptures. Of his purpose Ballantyne wrote, "There is growth in the young. The seed sown in their hearts is more likely to bring forth fruit than when sown in the hearts of those who are more advanced in years" (Sonne, p. 51). Disturbed by observing children at play on the Sabbath day and sensing that their spiritual growth was being neglected, he added, "I wanted to gather them into the school where they could learn not to read and write, but the goodness of God, and the true Gospel of salvation given by Jesus Christ" (Sonne, p. 51).
The following year the Fourteenth Ward, in which Richard Ballantyne was serving as second counselor to Bishop John Murdock, completed its meeting house, and the rapidly growing Sunday School was moved from the Ballantyne home to the new building. The expanding Sunday School class was also divided into a number of smaller classes with additional teachers being called into service. Others in the valley soon followed the Ballantyne pattern. Each Sunday School functioned somewhat autonomously, but generally under the direction of a ward bishop.
In 1858 the Sunday School movement was suspended when Johnston's Army (see Utah Expedition) entered Salt Lake Valley and many of the Saints moved south to other settlements. When the military climate stabilized in the early 1860s, Sunday Schools and other Sabbath meetings resumed. By 1870, more than 200 Sunday Schools were regularly attended by 15,000 youths and adults.
DESERET SUNDAY SCHOOL UNION. The first Sunday Schools functioned independently, devising their own curricula and administrative guidelines. Seeing the value of a central organization, however, Church leaders interested in the work being done organized a Sunday School Union on November 11, 1867. President Brigham Young and Daniel H. Wells, a counselor in the First Presidency, attended along with Elders George A. Smith, Wilford Woodruff, George Q. Cannon, of the Quorum of the Twelve Apostles, and Brigham Young, Jr., who became a member of the Quorum in 1868.
At this meeting, first steps were taken toward a permanent organization. Elder Cannon became general superintendent of the Deseret Sunday School Union. A committee of three was appointed to decide on books suitable for Sunday School use. A general secretary and two corresponding secretaries were also appointed. Commencing in June 1872, monthly meetings of the teachers and superintendents were held in Salt Lake City. In 1877, a three-man general board was added, and expanded to six members in 1879.
The organization addressed lesson topics and source materials, punctuality, grading, prizes and rewards, use of hymns and songs composed by members of the Church, recording and increasing the attendance, developing an elementary catechism, and libraries. It also sponsored the publication of administrative guidelines and materials for classroom use, resulting in increased uniformity in Sunday School administration and lesson content.
The Deseret Sunday School Union also sponsored efforts beyond the scope possible for individual schools. The Deseret Sunday School Musical Union was formed and its brass band organized, with Charles J. Thomas serving as director. The Musical Union, though of short duration, was artistically and financially successful. Contributing to its success were many whose compositions left a lasting imprint upon music in the Church, including Evan Stephens, George Careless, and Joseph J. Daynes. Commencing in 1874, annual musical festivals were presented in the tabernacle at Salt Lake City, with similar festivals being sponsored in many of the larger settlements. A Union Music Book was published, containing hundreds of pieces of original music.
In 1866, before the Deseret Sunday School Union was formed, publication of the juvenile instructor commenced privately, with Elder Cannon as editor. Early editions included catechisms on the Bible, Book of Mormon, and Doctrine and Covenants. Its pages also presented a variety of musical compositions, editorial teachings, and other aids to gospel instruction. As the Deseret Sunday School Union grew in stature, the Juvenile Instructor became its official voice. In January 1901, the Deseret Sunday School Union purchased the Juvenile Instructor from the Cannon family but continued publishing under that name until 1929, when the name was changed to instructor.
As stakes increased in size and number, it became customary to designate a stake Sunday School superintendency to supervise local Sunday Schools operating within the stake boundaries.
SACRAMENT IN SUNDAY SCHOOL. Following the organization of the Church in 1830, partaking of the Sacrament of the Lord's Supper became a customary part of Sabbath meetings held on a community or stake basis and attended principally by adults. Gradually these meetings were replaced by ward Sacrament meetings. In early 1877, President Young asked bishops and their counselors to attend Sunday School and administer the Sacrament to all children under eight years of age as well as to those over that age who had been baptized and confirmed members of the Church. The practice of administering the Sacrament in Sunday School was discontinued in 1980, when the three Sunday meetings were consolidated in a three-hour block.
GROWTH OF SUNDAY SCHOOLS. Upon the death of Superintendent Cannon on April 12, 1901, he was succeeded by Lorenzo Snow, President of the Church. But President Snow died within a few months and was succeeded in both callings by President Joseph F. Smith.
In 1884 stake Sunday School superintendencies began holding monthly meetings of Sunday School officers and teachers for instruction and coordination. General meetings of the Deseret Sunday School Union convened twice a year in connection with general conferences of the Church.
In the early 1900s the Sunday School added five new classes for the older children and youth. In 1904, the Sunday Schools in the Weber Stake introduced an adult class. Shortly thereafter, adult classes became an integral part of the Sunday School program.
When President Joseph F. Smith died in 1918, Elder David O. McKay became general superintendent of the Sunday Schools. He was succeeded by George D. Pyper, who served until early 1943. Others serving included Milton Bennion (1943-1949), George R. Hill (1949-1966), and David Lawrence McKay (1966-1971).
SUNDAY SCHOOL CORRELATION. As the Church expanded throughout the world, the Sunday School general board was enlarged and its members traveled extensively to provide support and training for local leaders in diverse lands, languages, and cultures. Growth in the number of Sunday School units and in attendance have matched the growth of the Church.
Over the years, there emerged an effort to draw all Church functions and programs into harmonious coordination under priesthood leadership. The Deseret Sunday School Union, designated an auxiliary, had functioned with considerable autonomy under separate organizational leadership, sending correspondence and instructions directly to local leaders. However, in April 1971 Church leadership created an all-Church coordinating council composed of three age-group committees (child, youth, and adult) assigned to correlate the curricula within the priesthood and auxiliary organizations of the Church.
In June 1971, Russell M. Nelson was called as general superintendent, with Joseph B. Wirthlin and Richard L. Warner as assistants. Spurred by the correlation movement, they brought dynamic changes to the Sunday School organization between 1971 and 1979. Reflecting the Sunday School's transition to an integrated part of the worldwide, unified Church organization under priesthood direction, the name was changed from Deseret Sunday School Union to simply Sunday School. The title of superintendent was changed to president to comport with traditional terminology commonly used in the priesthood and other auxiliary organizations.
Curriculum planning and writing became coordinated and centralized. Separate Sunday School general conferences were discontinued, and communication to Sunday School leaders was directed principally through priesthood channels. The frequency of regional visits by general board members was significantly reduced. Materials and programs were simplified and consolidated. Stake boards and ward Sunday School faculties were reduced in size, and reporting relationships were simplified as accountability of ward Sunday School officers to their ward priesthood leaders, rather than to stake auxiliary leaders, was strengthened.
An eight-year cycle of scripture instruction for the adult gospel doctrine course was instituted. Later reduced to four years, it focused one year of study each on (1) the Old Testament and the Pearl of Great Price, (2) the New Testament, (3) the Book of Mormon, and (4) the Doctrine and Covenants and Church history.
In October 1979, Russell M. Nelson was succeeded as general president by Elder Hugh W. Pinnock, of the Seventy, initiating a pattern of having General Authorities serve as the general presidency of the Sunday School, thus completing the organization's full integration as a correlated arm of the priesthood-directed Sunday School efforts throughout the world.
Attendance at Sunday School has continued to increase each year. By 1990 there were 17,676 Sunday Schools in the Church throughout the world, with more than 4.7 million members age eleven and older.
[See Basic Beliefs home page; Church Organization and Priesthood Authority homepage)
Bibliography
"Brief Review of the Sunday School Movement." Juvenile Instructor 34 (Nov. 1, 1899):666-74.
Hartley, William G. "Mormon Sundays." Ensign 8 (Jan. 1978):19-25.
Jubilee History of the Latter-day Saint Sunday Schools, pp. 9-28. Salt Lake City, 1900.
McKay, David O. "Sunday Schools of the Church." IE 33 (May 1930):480-81.
Nelson, Russell M. From Heart to Heart, pp. 125-140. Salt Lake City, 1979.
Sonne, Conway B. Knight of the Kingdom: The Story of Richard Ballantyne. Salt Lake City, 1949.
Sunday School Handbook. Salt Lake City, 1990.
Encyclopedia of Mormonism
Copyright © 1992 by Macmillan Publishing Company