LDS Schools
by Harold R. Laycock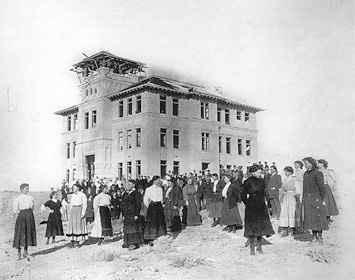 Second Emery Stake Academy, c. 1911, in Castle Dale, in central Utah, that area's largest school at the time. The stakes of the Church built and operated about thirty-three academies mainly between 1875 and 1912.

Between 1875 and 1910, the LDS Church sponsored thirty-three academies for secondary education in seven western states, Canada, and Mexico. Factors contributing to the development of the academy system were (1) the lack of public educational facilities in Utah before 1900; (2) the influx of a non-Mormon population with the accompanying establishment of academies by other denominations, schools that attracted many LDS youth; and (3) the need to provide schools in areas newly settled under the colonization program that the Church carried out in the western United States, Mexico, and Canada.
A typical academy experienced three phases of curricular development. Until about 1900, elementary subjects predominated, with some piecemeal additions of secondary and normal (teacher-training) courses. The curriculum provided basic academic subjects with an emphasis on vocational and cultural fields, including mechanical and agricultural skills, gymnastics, homemaking, vocal music, and art.
From 1900 to 1910 the academies offered more diversified secondary courses leading to terminal diplomas in preparation for vocations and missionary service. They featured enlarged academic departments and a broader offering including, dramatics, choirs, bands, orchestras, music clubs, debate societies, athletics, and sports. Normal courses were expanded to three and four years, and college-level classes made their appearance in a number of the schools.
After 1910 specialized courses were consolidated into standard four-year high school curricula, including much more extensive music and other cultural offerings than were found in the public high schools of the day. All of the schools served as cultural centers in their communities, sponsoring performances and sports involving much of the adult populace and importing artists, lecturers, and dramatic companies.
Some of these schools succumbed to the widespread economic depression following the Panic of 1893 and to the rise of public schools in Utah Territory after the free school act of 1890. Twenty-two of the academies, however, continued to thrive during the early twentieth century, constituting the only secondary schools in many LDS communities until after 1911.
By 1927 the Church had closed or turned over to the states all but eight of the academies. Six remained as accredited normal schools or two-year colleges, one as a university, and one as a secondary school. By 1934 only three—Brigham Young University, Ricks College, and Juarez Academy—continued under Church sponsorship. All three are presently operating (1991).
Factors leading to closing or transferring the academies to state education systems included the burden of financing two competing systems as public high schools emerged and the success of church-sponsored seminaries and institutes in supplementing secular education with religious training.
During the mid-twentieth century, schools similar in purpose and scope to the earlier academies were established in the South Pacific and elsewhere administered by the Church Educational System.
In 1953 legislation was passed in Utah as part of a cost-reduction effort to return Weber, Snow, and Dixie Colleges to the Church, but in a statewide referendum Utah voters rejected the proposal and the colleges remained with the state.
A list of some of the principal academies with their founding dates, locations, name changes, and 1991 status follows:
• Brigham Young Academy, 1875, Provo, Utah; became Brigham Young University in 1903; continues to the present.
• Brigham Young College, 1877, Logan, Utah; a four-year college briefly in 1903, but closed as a junior college in 1926.
• Salt Lake Stake Academy, 1886, Salt Lake City, Utah; a high school, known at various times as LDS High School, LDS University, and LDS College; closed in 1931 and transformed into LDS Business College, which continues today.
• St. George Stake Academy, 1888, St. George, Utah; Dixie Normal College, 1917; Dixie Junior College, 1923; state-operated Dixie College, 1933 to the present.
• Bannock Stake Academy, 1888, Rexburg, Idaho; Fremont Stake Academy, 1898; Ricks Academy, 1902; Ricks Normal College, 1917; Ricks College, 1918; made a four-year college, 1948; a junior college, 1956 to the present.
• Sanpete Stake Academy, 1888, Ephraim, Utah; Snow Academy, 1900; Snow Normal College, 1917; Snow Junior College, 1923; Snow College, a state junior college, 1932 to the present.
• Weber Stake Academy, 1888, Ogden, Utah; Weber Academy, 1908; Weber Normal College, 1918; Weber College, 1922; a state junior college, 1922; a four-year college 1962; Weber State College, 1963; Weber State University, 1991.
• St. Joseph Stake Academy, 1891, Thatcher, Arizona; LDS Academy, 1898; Gila Academy, 1911; Gila Normal College, 1920; Gila Junior College, 1923; Eastern Arizona Junior College, 1932 to the present time.
• Juarez Stake Academy, 1897, Colonia Juárez, Mexico; Academia Juárez, 1963 to the present.
Bibliography
Bennion, Milton Lynn. Mormonism and Education. Salt Lake City, 1939.
Jenson, Andrew. Encyclopedic History of the Church of Jesus Christ of Latter-day Saints. Salt Lake City, 1941. (Academies listed under latest titles.)
Laycock, Harold R. "A History of Music in the Academies of the Latter-day Saints Church, 1876-1926." D.M.A. diss., University of Southern California, 1961.