Brigham Young College
by Arnold Kent Garr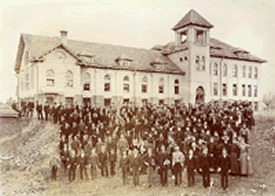 Photograph of Brigham Young College - courtesy of Utah State University special collections
President Brigham Young founded Brigham Young College (BYU) in Logan, Utah, on July 24, 1877, just two years after he founded Brigham Young Academy (Brigham Young University from 1903) in Provo, Utah. Established to train the youth of the Church in northern Utah, southern Idaho, and western Wyoming, Byc had nearly 40,000 students in its forty-nine years of operation (1877-1926). At first a normal school primarily preparing elementary teachers (1877-1894), it then inaugurated college courses and for fifteen years granted bachelors' degrees (1894-1909). During its final period (1910-1926), the school operated as a high school and junior college. With the Church Board of Education decision to discontinue its schools except Brigham Young University, Brigham Young College closed its doors in May 1926; gave its library to Utah State Agricultural College, also in Logan; and sold its buildings and land to Logan City to be used as a high school. The old Byc buildings were demolished in the 1960s, and the new Logan High School was built on the site.
Four alumni of Brigham Young College became members of the Quorum of the Twelve Apostles: Richard R. Lyman, Melvin J. Ballard, John A. Widtsoe, and Albert E. Bowen.
Bibliography
Garr, Arnold Kent. "A History of Brigham Young College, Logan, Utah." Master's thesis, Utah State University, 1973.
Sorensen, A. N. "Brigham Young College." In The History of a Valley: Cache Valley, Utah-Idaho, ed. Joel E. Ricks, pp. 349-69. Logan, Utah, 1956.