BYU Jerusalem Center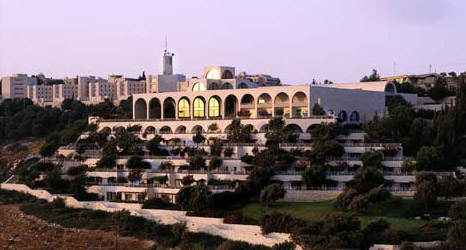 by David B. Galbraith

The Brigham Young University Jerusalem Center for Near Eastern Studies is located on a five-acre site on Mount Scopus. First occupied in March 1987, the center was dedicated in May 1989 by Howard W. Hunter. After being closed to students from 2001 to 2006, BYU will resume programs at the Jerusalem Center beginning fall semester 2006. The center was closed to students due to political unrest in the area, but remained open for concerts, tours, and other events. BYU students interested in applying to the program should visit BYU's Continuing Education website for more information.

The Jerusalem Center for Near Eastern Studies grew out of a Jerusalem "semester abroad" educational program for undergraduates instituted by Brigham Young University (BYU) in 1968. It became popular among Latter-day Saint students because of their commitment to the religious traditions of the Bible. The academic offerings at the Center focus on biblical and contemporary studies, correlated with a study of archaeology, biblical geography, Near Eastern history, Judaism, Islam, Near Eastern languages, and international relations and politics. Studies are enhanced with weekly field trips to biblical and historical sites in Israel and extended study tours to Jordan and Egypt.

Several academic programs, varying in content and covering periods ranging from a few weeks to six months, are offered at the Center for undergraduates and graduates. Research scholars from Brigham Young University also use these facilities, often in association with scholars and universities in the Middle East. In addition, the Center hosts a variety of continuing education programs or "travel study tours" for youths and adults.

The Center provides students a period of intensive learning in a stimulating setting in which a commitment to excellence is expected. Ideally, students conclude their studies in the Holy Land with deepened spiritual and intellectual appreciation of its history, peoples, and cultures.

The Jerusalem Center facilities are located on the northern half of the Mount of Olives, adjacent to the Mt. Scopus campus of Hebrew University. The eight-floor study center is terraced into the hillside. It is constructed of white Jerusalem limestone and designed with an architectural blend of domes, arches, and straight lines, complemented by flower gardens that feature several species of trees and bushes referred to in the Bible. The interior of the Center, with its cupolas, arches, galleries, and vaulted ceilings, is also congenial to its Near Eastern setting. Large windows and spacious patios offer a magnificent panorama of old and modern Jerusalem.

In the early 1980s the construction of the Center faced resolute opposition from certain religious circles and Israeli nationalist groups who feared that the Center might become a base for Mormon proselytizing of Jews. In the spirit of accommodation and out of a desire for peaceful interfaith relations, BYU agreed with the government of Israel that the Center would be used exclusively for educational and cultural activities.

The Center also helps to serve the spiritual needs of Latter-day Saints, visiting or residing, in the Holy Land. An ecclesiastical organization consisting of a district and several branches has been established to provide worship services each sabbath.

Bibliography

"BYU's Jerusalem Center Opens." Ensign 17 (June 1987):77.

"David Galbraith Heads BYU Jerusalem Center." Ensign 17 (Aug. 1987):79.