Granite Mountain Record Vault
(Note: All questions concerning Family History or Genealogy should be addressed to The Genealogy Lady at the New Jerusalem web site.) To find a family History Center in your area, call (U.S.) 1-800-346-6044 or visit http://www.kbyu.byu.edu/ancestors.html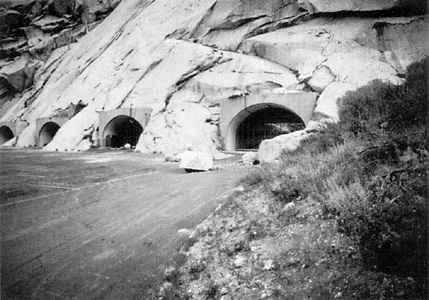 The Granite Mountain Record Vault, carved from solid rock in the Wasatch Mountains near Salt Lake City, Utah, is the repository of millions of feet of microfilmed genealogical records from around the world (c. 1980).
by Steven W. Baldridge
Since 1938, the genealogical society of Utah has been collecting genealogical and historical information on rolls of microfilm. The Granite Mountain Record Vault is the permanent repository for these microfilms. It is located about one mile from the mouth of Little Cottonwood Canyon in Utah's Wasatch Range, twenty miles southeast of downtown Salt Lake City.
The Vault, as it is commonly known, is a massive excavation reaching 600 feet into the north side of the canyon. Constructed between 1958 and 1963 at a cost of $2 million, it consists of two main areas. The office and laboratory section sits beneath an overhang of about 300 feet of granite and houses shipping and receiving docks, microfilm processing and evaluation stations, and administrative offices. Under 700 feet of stone, the Vault proper is situated farther back in the mountain behind the laboratory section and consists of six chambers (each 190 feet long, 25 feet wide, and 25 feet high), which are accessed by one main entrance and two smaller passageways. Specially constructed Mosler doors weighing fourteen tons (at the main entrance) and nine tons (guarding the two smaller entrances) are designed to withstand a nuclear blast. In the six chambers, nature maintains constant humidity and temperature readings optimum for microfilm storage.
Each chamber contains banks of steel cabinets ten feet high. As of February 1991, approximately 1.7 million rolls of microfilm, in 16mm and 35mm formats, were housed in two of the six chambers. The collection increases by 40,000 rolls per year. Alternate media, such as optical disks with greater capacity for storage than microfilm, are being considered for use and may make further expansion of the Vault unnecessary.
The genealogical information contained on these microfilms is collected from churches, libraries, and governmental agencies and consists primarily of birth, marriage, and death registers; wills and probates; census reports; and other documents that can be used to establish individual identities. Latter-day Saints use such information to assemble family group charts and pedigrees for the purpose of binding together ancestral lines of kinship through sealing ordinances performed by proxy in temples. Such ordinances are considered essential for the salvation of the dead—that is, those who died without hearing the full message of the gospel of Jesus Christ.
(See Daily Living home page; Family History home page)
Bibliography
Schueler, Donald G. "Our Family Trees Have Roots in Utah's Mountain Vaults." Smithsonian 12 (Dec. 1981):86-95.
Shoumatoff, Alex. The Mountain of Names: A History of the Human Family. New York, 1985.
Encyclopedia of Mormonism, Vol. 2, Granite Mountain Record Vault
Copyright © 1992 by Macmillan Publishing Company