LDS Family History Library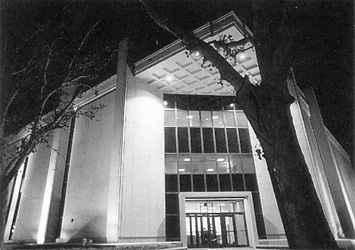 The Church's Family History Library (c.1988) houses the world's largest collection of genealogical records. More than 2,000 people come here daily to research their family histories. The five-floor library opened in Salt Lake City in 1985. Photographer: Marty Mayo.
by Raymond S. Wright, III
The Family History Library in Salt Lake City, supports the LDS practice of family history research that identifies forebears and makes possible the temple work leading to salvation of the dead. It provides services and resources that enable Latter-day Saints and others to identify and learn more about their ancestors. It is also a developmental center where new resources and programs are perfected and made available to Church members worldwide through family history centers.
On November 13, 1894, the genealogical society of Utah was organized. One of its purposes was the "establishing and maintaining [of] a genealogical library for the use and benefit of its members and others" (Minutes of the Genealogical Society of Utah, Nov. 13, 1894). From its modest beginnings in an upstairs room of the Church Historian's Office with about 300 books, the collection has grown and its facilities have changed commensurately, so that in 1990 the library occupied a modern five-story building which housed 200,000 books, 300,000 microfiches, and more than 1.6 million rolls of microfilm, making it the largest library of its kind in the world.
During its first fifty years, the library was open only to dues-paying members. In 1944 it was incorporated under the administration of the Church, and its resources were made available to the public. In 1989, the library had 813,000 visitors. Genealogists, historians, demographers, geneticists, and other researchers from many countries travel to Salt Lake City to utilize the wealth of information available in the library. They are attracted by its collections, the expertise of the staff, and the nearly 700 classes offered annually in research sources and methodology.
The biggest attraction is the microfilm collection. Since 1938, the Genealogical Society of Utah and its successor organization, the LDS Church Family History Department, have been preserving copies of original documents on microfilm. In 1990 the library sponsored approximately 200 microfilming projects in various parts of the world. These efforts have added microfilmed copies of more than 5 million manuscripts to the library's collections. The microfilms show the original records of births, marriages, and deaths; military records; censuses; wills; notaries' records; cemetery records; and other kinds of documents that describe people and families from the past. Other resources include compiled genealogies, local histories, old maps, city directories, and name indexes. The largest collections are from countries in North America and Europe, with substantial collections from Latin America. The library has also acquired written and oral materials from Asia, Africa, Australia, and the islands of the Pacific Ocean.
Computer terminals give patrons access to the FAMILYSEARCH™ system, which guides researchers into the Family History Library Catalog, the INTERNATIONAL GENEALOGICAL INDEX (IGI), and ANCESTRAL FILE™. These computer files of family history information are stored on compact discs. The compact-disc edition of the catalog provides access to books and microfilms that contain original records, reference sources, and family histories and genealogies.
Library visitors can also learn how to use PERSONAL ANCESTRAL FILE. This computer program enables families to manage family history records on their personal computers. In addition, users can easily exchange genealogical information with others who have compatible computer programs or with Ancestral File.
Another resource is the FAMILY REGISTRY™. This service helps both individuals and family organizations to share with others information they may have about deceased individuals and to ask for information about an ancestor who is currently the subject of their research. Library visitors have access to microfiche records listing the ancestors and family organizations that have been registered. This file eases coordination of research with others who may share the same family lines.
At the Family History Library professional genealogical reference consultants, library attendants, and hundreds of volunteers serve library visitors. They are trained to guide patrons to sources identifying their families and to help them interpret the information in these books and documents. Staff members are multilingual and can read handwriting from many countries and time periods.
(See Daily Living home page; Family History home page)
Bibliography
Cerny, Johni, and Wendy Elliott, eds., The Library: A Guide to the LDS Family History Library. Salt Lake City, 1988.
Mayfield, David M. "The Genealogical Library of The Church of Jesus Christ of Latter-day Saints." Library Trends 32 (Summer 1983):111-27.
Encyclopedia of Mormonism, Vol. 2, Family History Library
Copyright © 1992 by Macmillan Publishing Company