Exhibitions and World's Fairs
by Richard J. Marshall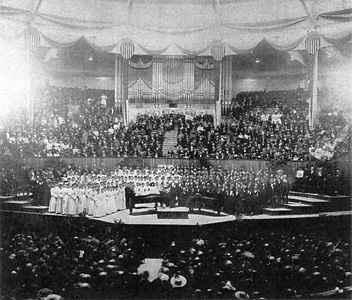 The Mormon Tabernacle Choir, under the direction of Evan Stephens, with soloists Robert C. Easton, Nellie Druce-Pugsley, and others, won second place in the competition for the Eisteddfod International Prize at the 1893 Columbian World's Fair in Chicago. Photographer: James H. Crockwell.
From its beginnings, the Church has characteristically presented its message through personal contact or in small groups: Faith and testimony are interpersonal. The Church has placed extensive emphasis on the mass media, and in participating in exhibits such as world's fairs. In addition, in recent years these activities have provided the Church an opportunity to present the message of the gospel amid milestone presentations of the arts, the sciences, and industry. The witness of the living and revealed Jesus Christ has been implicit in all Church exhibits, with two related themes given prominence: life's greatest questions—Where did I come from? Why am I here? What follows death?—and family values.
The first Church participation in a world's fair on a truly international scale was at the World's Columbian Exposition in Chicago in 1893, where the Mormon Tabernacle Choir won high honors in the choral competition. The Church later sponsored booths in several expositions and fairs, including the International Hygiene Exposition at Dresden, Germany, in 1930, and the Century of Progress Exposition in Chicago in 1933-1934. Exhibits were also mounted at international expositions held in San Diego in 1935-1936 and San Francisco in 1939-1940.
The Church's participation in the New York World's Fair in 1964 was a major effort. Its pavilion was a full-size replica of the three east towers of the Salt Lake Temple. Original paintings, the presentation of the film man's search for happiness, and a replica of the Thorvaldson Christus statue were featured. A large staff of trained volunteer guides conducted tours and question-and-answer sessions for the more than six million visitors who came to the pavilion.
Exhibits have since been presented at fair pavilions in Montreal, Canada; Osaka, Japan; San Antonio, Texas; and Seattle, Washington. Some of the exhibit artifacts have since been placed in visitors centers throughout the world.
(See Missionary Work home page; Daily Living home page)