Family Prayer
by Bruce L. Olsen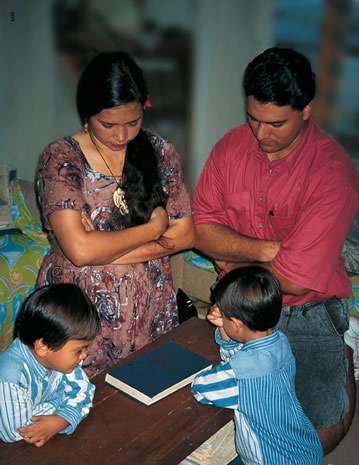 It is considered a duty and privilege by Latter-day Saint parents to lead their children in regular family prayer. The scriptural basis for this practice is seen in the Book of Mormon. As the Savior was teaching the Nephites, he said, "Pray in your families unto the Father, always in my name, that your wives and your children may be blessed" (3 Ne. 18:21). President Ezra Taft Benson has said, "Family prayer is…the means to acknowledge appreciation for blessings and to humbly recognize dependence on Almighty God for strength, sustenance, and support" (CR [April 1984] p. 7).
Ideal circumstances find the LDS family kneeling in prayer twice daily, morning and evening. As family members grow older and engage in an increasing variety of activities, finding a convenient time for all members to be present for group prayer is often difficult. Some never meet the challenge, whereas others hold prayer and scripture study early in the morning when they are less likely to be interrupted. Another common time for group prayer is just before breakfast and dinner.
Family prayer affords the opportunity for both children and parents to lead in prayer, one at one family prayer and another at the next. Most prayers thank the Lord for blessings received (see thanksgiving) and on behalf of the family petition for desired blessings. Challenges facing family members and friends are often placed before Father in Heaven in united supplication. Specific concerns for the well-being of each family member can be enumerated. Sometimes the family fasts and joins in family prayer on behalf of family members, friends, neighbors, or others who are ill or in special need of the Lord's blessings.
Family prayer allows individuals and families to focus attention and affection on God. It builds faith and loyalty within the family and epitomizes Christ-centered family worship. Family prayer affords the opportunity to offer praise to God and gratitude for daily blessings as well as for the Savior's mission, example, and love. Church members believe that the benefits of daily family prayer include family unity, strength in the Lord, freeing the heart of evil inclinations, tender moments of divine communication, and an understanding of God's relationship to his children.
Many members who live alone participate in a family prayer experience by choosing to pray aloud for family members and others. They may also join Family Home Evening groups or other friends and associates for regular group prayer.
Bibliography
Groberg, John H. "The Power of Family Prayer." Ensign 12 (May 1982):50-52.
Hinckley, Gordon B. "The Force of Family Prayer." IE 66 (June 1963):528-32.
Kimball, Spencer W. "Family Prayer." In Prayer, pp. 84-87. Salt Lake City, 1977.
Perry, L. Tom. "Our Father Which Art in Heaven." Ensign 13 (Nov. 1983):11-13.