Gordon B. Hinckley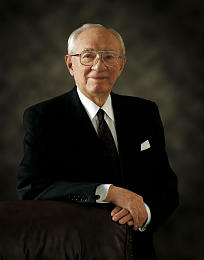 President Gordon B. Hinckley was ordained and set apart as the 15th President of the Church on March 12, 1995, after serving 14 years as a counselor in the First Presidency and 20 years in the Quorum of the Twelve. Except for a short period during World War II, he has worked as an employee or General Authority of the Church on a full-time basis since completing his mission in 1935. In his first general conference address as president, he commented: "The time has come for us to stand a little taller, to lift our eyes and stretch our minds to a greater comprehension and understanding of the grand millennial mission of this, THE CHURCH of JESUS CHRIST of Latter-day Saints. It is a time to move forward without hesitation." Carrying the work forward has been a theme of the Hinckley family from the early days of the Church. His grandfather was Ira Hinckley, a convert of 1844 who crossed the plains, supervised construction of Cove Fort in central Utah and later served as president of the Millard Stake. President Hinckley's father was Bryant S. Hinckley, a stalwart who served as president of the Liberty Stake. One of his ancestors came to America on the Mayflower, and another was governor of Plymouth Colony.
President Hinckley was born June 23, 1910, in Salt Lake City, Utah, to Bryant S. and Ada Bitner Hinckley. His work ethic emerged early in life as he learned home repairs and helped care for his father's orchards. As a young man, his ability with words won him a reputation as an outstanding speaker. After graduating from the University of Utah in 1932 in English, he accepted a mission call to the British Isles, serving from 1933-35. He completed his mission in London in the office of the European Mission, under Elder Joseph F. Merrill of the Quorum of the Twelve. Upon his return, he reported to the First Presidency in an interview that led to employment as secretary of the then recently formed Radio, Publicity and Mission Literature Committee of the Church. During the next two decades he pioneered in the adapting of Church materials, particularly historical, for the media.
He married Marjorie Pay on April 29, 1937, in the Salt Lake Temple. They have five children and 26 grandchildren. In 1937 he was called to the Deseret Sunday School Union General Board, a position he held until being called as counselor in the East Millcreek Stake in 1946. After serving 10 years in this capacity, he was called in 1956 as president of that stake, a third-generation stake president. In 1951 he was appointed general secretary of the General Missionary Committee, and assisted in introducing uniform missionary lessons. President Hinckley was sustained an Assistant to the Twelve April 6, 1958, and as a member of the Quorum of the Twelve Sept. 30, 1961. He was ordained an apostle Oct. 5, 1961, at age 51. His service as a General Authority is characterized by a caring and personal ministry among people across the world. President Hinckley was called as a counselor to President Spencer W. Kimball on July 23, 1981, and as second counselor Dec. 2, 1982, serving until Nov. 5, 1985. He served as first counselor to President Ezra Taft Benson from Nov. 10, 1985, to May 30, 1994. He served as first counselor to President Howard W. Hunter from June 5, 1994, to March 3, 1995.
On his 94th birthday in 2004, Gordon B. Hinckley was awarded the Presidential Medal of Freedom, the nation's highest civilian award.
Learn more about Gordon B. Hinckley (links to another site)