Worship Joseph Smith?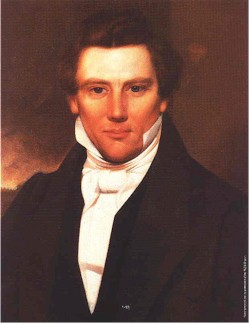 President Gordon B. Hinckley said that Church members don't worship Joseph Smith. "We worship God our Eternal Father, and the risen Lord Jesus Christ," he said. "But we acknowledge him (Joseph Smith), we proclaim him, we respect him, we reverence him, as an instrument in the hands of the Almighty in restoring to the earth the ancient truths of the divine gospel, together with the priesthood through which the authority of God is exercised in the affairs of His Church and for the blessing of His people."
Elder Charles W. Penrose stated, "I bear testimony to you that I know this Church is the Church of Jesus Christ; that it has been built up by the power of God; that God Almighty has revealed it; that Jesus Christ, His Son, has manifested Himself, and that this Church is His Church, because He has built it up, and He guides and directs and controls it, through His servants who stand at the head of the Church. They are but men. We do not worship any man. We do not worship Joseph Smith, as some people imagine; but we look upon him as a very great Prophet, and we have reasons for this. We believe that God the Father and Jesus Christ, His Son, appeared to him, and opened to him this last dispensation--"the dispensation of the fulness of times." We believe that Peter, James and John came down and ordained him an Apostle of the Lord Jesus Christ, conferring upon him all the keys, authority and power which they held while they were in the flesh. We believe that that same authority and Priesthood are in the Church to-day. We believe that the man who stands at the head speaks for the Lord to the people. At the same time we believe in the right of every member of the Church to have the Holy Ghost and the light of God for himself or herself, that we may see eye to eye.
The Church News, Conference Issues 1970-1987, p.16
Charles Penrose Collected Discourses, Vol.3 May 15, 1892