Music and the Spoken Word
by Paul H. Evans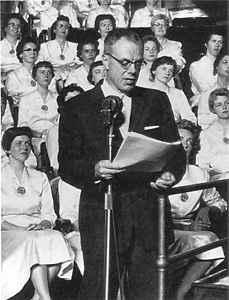 Elder Richard L. Evans, the voice of "Music and the Spoken Word" for forty-one years, reads one of the brief messages that accompany each Sunday's broadcast by the Mormon Tabernacle Choir, the longest continuous broadcast in radio history (c. 1953).
The Mormon Tabernacle Choir Broadcast is the traditional Sunday broadcast of the Mormon Tabernacle Choir. It originates in the Salt Lake tabernacle and is open to the public. Begun on July 15, 1929, this weekly performance has become the longest continuously presented nationwide network broadcast in American radio history.
During World War II, the choir broadcasts were aired extensively over Armed Forces Radio Network in Europe and the Far East. Thereafter, local stations extended the broadcast into the Pacific Islands, Australia, and South America. The choir made its television debut in 1962, and the weekly broadcast was relayed to over eight hundred radio and television stations worldwide.
With the sacred hymns and choral works, backed by the tabernacle organ, a brief message, the "Spoken Word," is given each Sunday. For forty-one years the voice and the message were those of Richard L. Evans, who during that period was called to be a seventy, then a member of the Quorum of the Twelve Apostles. His messages and delivery attempted to capsulize—usually in less than two minutes—universal principles related to character, human relationships, and the conduct of life. In the spirit of bridge-building, he aimed at both timely and timeless insights. His undergirding message was that the differences that separate people are not nearly as great as the factors that unite them. Selected Spoken Word messages ran in a weekly syndicated newspaper column circulated nationally and were later published in a series of books. Over two thousand such messages were given before his death in 1971.
Through thousands of broadcasts the opening hymn has remained "Gently Raise the Sacred Strain," and the closing one, "As the Dew from Heaven Distilling," and the signoff phrase is "may peace be with you, this day and always." Today, after more than 75 years and over 4000 broadcasts, Music and the Spoken Word have been produced.