Orchestra at Temple Square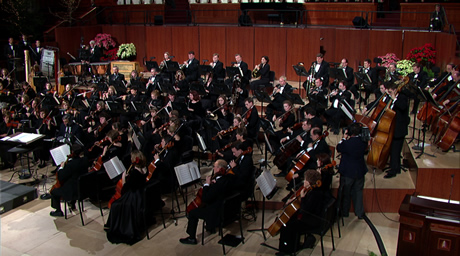 Orchestra at Temple Square was created in 1999 under the direction of The Church of Jesus Christ of Latter-day Saints Church President Gordon B. Hinckley as part of the creative initiative to continually strengthen and expand the capabilities of the LDS Church music organizations. For years, the Choir had been accompanied by such acclaimed instrumental groups as the Philadelphia Orchestra and the Utah Symphony. But in 1999, the time was right for the creation of a standing volunteer orchestra that would enhance the quality of Mormon Tabernacle Choir performances in addition to providing instrumental musicians the opportunity to serve as musical missionaries. Like the Mormon Tabernacle Choir, the home of the Orchestra at Temple Square has been the Salt Lake Tabernacle on Temple Square in Salt Lake City, Utah.
The Orchestra at Temple Square has developed into a nationally recognized symphony orchestra. Under the direction of Conductor Igor Gruppman, the Orchestra functions concurrently as a concert orchestra and as a companion volunteer organization to the Mormon Tabernacle Choir and Temple Square Chorale.
The Orchestra undertakes its own concert season performing from standard orchestral literature. In highly successful past seasons, the Orchestra has given critically acclaimed performances of such masterworks as Symphony No. 4 by Mahler, The Firebird by Stravinsky, and Symphony No. 9 (from The New World) by Dvorak.
Accompanying the Mormon Tabernacle Choir is a key responsibility for the Orchestra at Temple Square. The Orchestra frequently provides accompaniment for the weekly radio and TV broadcasts of Music and the Spoken Word, and it plays a major role in recording projects. To date, the Orchestra has played on several major recording projects with the Mormon Tabernacle Choir for the Telarc label. Additionally, the Orchestra accompanies the Temple Square Chorale in its semiannual concerts and has provided the music for various LDS Church productions such as Savior of the World.
Like the Mormon Tabernacle Choir, the 110-member Orchestra is purely a volunteer organization. Many of the Orchestra's members are professional musicians who give their time and talents in support of the LDS Church without any financial compensation.
With the advent of the Orchestra at Temple Square, a new dimension has been added to the depth and quality of music provided in support of the LDS Church's overall mission. The Orchestra has already manifested itself as a wonderful symphony with great promise for the future.