LDS Church in Canada
by Richard E. Bennett

By October 1830, converts to the Church were teaching the gospel to family and friends in Canadian cities and towns less than 200 miles from Palmyra, New York. Between 1830 and 1845, LDS missionaries labored in Upper Canada (now Ontario) and the more easterly Maritime Provinces of British North America. Lower Canada (Quebec), with its Roman Catholic heritage and traditions, was then largely impervious to competing religious influences. Brigham Young, Parley P. Pratt and Orson Pratt, John E. Page, and even the Prophet Joseph Smith visited and preached in Upper Canada during these early years. Some 2,500 Canadians joined the Church in Kingston, Earnestown, Toronto, Brantford, Mount Pleasant, North and South Crosby, and elsewhere. Yet so many Latter-day Saint Canadian converts migrated to the centers of the Church or fell away that the 1861 census counted only seventy-four Mormons in all of Upper Canada.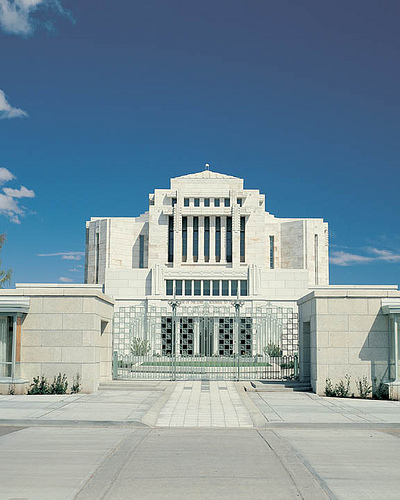 The Alberta Temple, located in Cardston, in southern Alberta, and dedicated in 1923, was the first LDS temple built outside the United States and its territories. Constructed of handhewn white marble from British Columbia, it won architectural acclaim.
The second LDS penetration into Canada came some fifty years later and 2,500 miles farther west, when Church President John Taylor, a British-born Canadian convert, sent Charles Ora Card to Canada to find a place of refuge for the Saints from the U.S. government's campaign against plural marriage. Card's small 1887 settlement on Lee's Creek in southern Alberta became Cardston. The Canadian government also outlawed plural marriage, but most public opposition to the Church declined with the 1890 manifesto, which officially ended the practice. (See Pioneer Settlements in Canada)
Taking full advantage of the Canadian government's "National Policy," which encouraged immigration, several thousand skilled and seasoned Latter-day Saints moved north, and soon several other Mormon towns sprung up around Cardston: Raymond (1890), and Sterling and McGrath (1898). The Alberta Stake was organized on June 9, 1895, the first LDS stake outside the United States. Charles O. Card was its president. Skilled in farming, particularly sugar beets, and in irrigating large land acreages, LDS farmers soon earned the admiration of friend and foe. By 1914, more than 10,000 Latter-day Saints were settled in a score of communities in southern Alberta. In 1923 the Church dedicated the Cardston Temple, the first temple outside the United States.
Gradually the LDS populations in Canada have shifted northward to the larger urban centers of Lethbridge, Calgary, Red Deer, and Edmonton. In the process, many members of the Church have shifted from agricultural to professional careers. Since 1950, Latter-day Saints have been known for their involvement in the oil and gas industry, railroad construction, provincial politics, education, and in many other pursuits. In 1990, more than 50,000 members of the Church lived in Alberta, 12,000 in Calgary alone.
From the Latter-day Saint communities in Alberta, members have pursued educational vocational careers in Canadian communities from coast to coast. The ranks of Church members all across Canada have grown steadily, though not spectacularly. The story has often been the same—a few local converts, some Alberta move-ins, a steady stream of missionaries, some more local converts and leaders, rented halls giving way to Church-built meetinghouses, branches becoming wards, districts becoming stakes. The first Canadian stakes outside Alberta were organized in Toronto, Ontario, and Vancouver in 1960. Since then stakes have been organized in Manitoba, Saskatchewan, Nova Scotia, and New Brunswick, characteristically encompassing large land areas. Quebec, once hostile, had two stakes, one English- and one French-speaking, in 1990.
Hugh B. Brown and Nathan Eldon Tanner, who had been successful business, military, and education leaders in Alberta, came to serve as counselors in the First Presidency of the Church in 1961-1970 and 1963-1982, respectively.
In 1990 more than half the Canadian LDS population of approximately 125,000 lived outside of Alberta, in sixteen of the country's thirty-four stakes. The dedication and opening of the Toronto Temple in 1990 symbolized more than 150 years of achievements by the Church in Canada.
(See Basic Beliefs home page; Church Organization and Priesthood Authority home page; The Worldwide Church home page)
Bibliography
Bennett, Richard E. "A Study of The Church of Jesus Christ of Latter-day Saints in Upper Canada, 1830-1850." M.A. thesis, Brigham Young University, 1975.
Card, Brigham Young. The Canadian Mormon Communities in Southwestern Alberta, Canada: Origins, Persistence, and Transformation of an Ethnic Identity. Canada, 1988.
Card, Brigham Young., et al., eds. The Mormon Presence in Canada. Logan, Utah, 1990.
Tagg, Melvin S. A History of the Mormon Church in Canada. Lethbridge, Alta., 1968.