Motherhood
by Patricia Terry Holland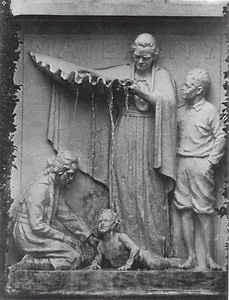 Hawaiian Motherhood, by Avard T. Fairbanks (1917, cast concrete), in front of the Hawaii Temple, Laie, Hawaii. The main figure in this relief sculpture is a Hawaiian mother, holding a giant clam shell and symbolically pouring the love, hope, and care of maternity over her children.
In an address on the blessings and responsibilities of motherhood, President Ezra Taft Benson stated: "No more sacred word exists in secular or holy writ than that of mother" (Benson, p. 1). Latter-day Saints revere and respect motherhood, in part because of the mother's role in shaping the family unit and the individuals within it. President David O. McKay taught:
Motherhood is the greatest potential influence either for good or ill in human life. The mother's image is the first that stamps itself on the unwritten page of the young child's mind. It is her caress that first awakens a sense of security; her kiss, the first realization of affection; her sympathy and tenderness, the first assurance that there is love in the world…. This ability and willingness properly to rear children…make motherhood the noblest office or calling in the world…. She who rears successfully a family of healthy, beautiful sons and daughters…deserves the highest honor that man can give, and the choicest blessings of God [McKay, pp. 452-54].
Obviously, the sociological significance of the mother's role is immense: Her relationship with her children and her guidance in their growing years influence the formation of values and attitudes they will carry throughout their lives. But for Latter-day Saints, motherhood has meaning well beyond such sociological significance.
Church doctrine recognizes both a mothering and a fathering role in the spiritual birth and premortal development of each person. In a document issued in 1909, the First Presidency of the Church wrote that "man, as a spirit, was begotten and born of heavenly parents, and reared to maturity in the eternal mansions of the Father," and that "all men and women are in the similitude of the universal Father and Mother, and are literally the sons and daughters of Deity" (Smith, p. 884; see Mother in Heaven).
Following development in the premortal existence, each of God's spirit children has the opportunity to come to earth and acquire a mortal body that, when resurrected, will be bound with the spirit to form an inseparable, eternal soul. Providing mortal bodies for God's spirit children is a work given to mortal beings, with the greater measure of responsibility falling to mothers, who conceive, sustain, carry, and give birth to children. President Spencer W. Kimball said, "Mothers have a sacred role. They are partners with God…. [He] has placed women at the very headwaters of the human stream" (pp. 326-27).
The significance of motherhood continues undiminished following the birth of a child. The long-term stability, security, and peace of a human soul are built in large measure upon the foundation of love, and any individual's ability to give and receive love is rooted strongly in that person's earliest relationships. For most people, that earliest influence is the mother.
She who gives the child life is first and foremost the one to give it a way of life, teaching the child what it should or should not do. She encourages strong character formation as she teaches the child to impose limitations on some of its natural instincts. By her words and actions she teaches her child the regard that should be shown other individuals if that child wishes to be included and loved as a member of the family circle, later as a member of society, and finally as a participating member of the kingdom of God.
The ultimate responsibility of a mother, then, is to lead her child lovingly through its personal development and toward its divine destiny. Latter-day Saints believe that if a mother is prayerful and totally committed to such a weighty responsibility, she will receive divine intuitions and spiritual whisperings to aid her in her mothering. Living as a conduit for divine instruction to her child, a mother can greatly enhance its opportunity for joy and exaltation. The child who has been mothered in this profound way usually develops a moral conscience, a respect for society, a desire to contribute to the well-being of humankind, and, most important, a love of God and a love for self that will bring everlasting joy and inner peace.
Perhaps the most distinctive Latter-day Saint doctrine regarding motherhood emphasizes the role of a mother after death. The eternal nature of the family unit, when that unit is bound together by priesthood ordinances and temple covenants, guarantees to a faithful LDS mother the privileges, opportunities, and joys of motherhood with her children in a relationship that lasts eternally.
[See also Mother in Israel; Women, Roles of.; Basic Beliefs home page; Teachings About the Family home page; Teachings About Motherhood and the Role of Women home page]
Bibliography
Benson, Ezra Taft. "To the Mothers in Zion." Salt Lake City, 1987.
Kimball, Spencer W. The Teachings of Spencer W. Kimball, pp. 324-51. Salt Lake City, 1982.
McKay, David O. Gospel Ideals, pp. 452-57. Salt Lake City, 1953.
Smith, Joseph Fielding. "Mothers in Israel." The Relief Society Magazine 57 (Dec. 1970):883-87.