Church History 1878-1898, Late Pioneer Period
by William G. Hartley and Gene A. Sessions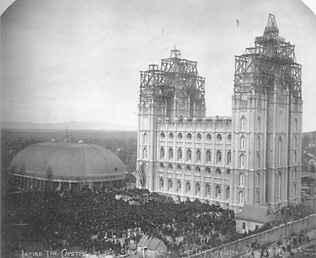 Laying the capstone of the Salt Lake Temple, April 6, 1892. The temple was dedicated one year later. Photographers: Sainsbury and Johnson.
Overview: "This article discusses a period of stress and adaptation following the death of Brigham Young as the Church confronted great pressures to conform to contemporary American mores. After presenting an overview of the period, the article considers organizational changes, economic programs, establishment of new LDS settlements, and missionary work, then focuses on the struggle over Polygamy, culminating in the Manifesto of 1890 announcing the official end of Plural Marriage. In the wake of the Manifesto came home rule for Utah (see Utah Statehood), expanded proselytizing, attempts to shore up religious education (see Academies), and more limited Church economic involvement (see Pioneer Economy)
During the 1878-1898 period of growth, severe problems, and pronounced changes, the Church met many challenges under Church Presidents John Taylor and Wilford Woodruff. The 1879 Supreme Court ruling upholding antipolygamy legislation introduced a decade of ever harsher enforcement of ever harsher laws. Facing governmental persecution and seeking "home rule" through statehood, the Church moved to end the practice of plural marriage and surrender its once firm control of Utah Territory's politics and economics. In the 1890s Utah Territory and its LDS residents embarked on the road to "Americanization."
Though this period was noted for its prolonged confrontation with the federal government, growth was also a striking characteristic. Church membership doubled (from 115,065 to 229,428), as did the number of stakes (20 to 40) and wards (252 to 516). LDS settlements extended into Mexico and Canada. As proselytizing efforts expanded, the number of missions increased (from 8 to 20). Priesthood quorum work became more orderly and standardized. General Authorities regularly visited quarterly stake conferences and ward conferences. Auxiliary organizations became widely established in stakes and wards, and general-level auxiliary presidencies and boards were appointed. The Church also finished three new temples, bringing the total in Utah to four.
After President Young's death in August 1877, the Quorum of the Twelve Apostles did not immediately organize a new First Presidency. John Taylor presided over the Church as president of the Twelve until October 1880. Under his leadership the Twelve completed the reorganization of wards and stakes that President Young had begun.
They also expanded auxiliary organizations. By 1880 the Twelve selected three of their own (Elders Wilford Woodruff, Joseph F. Smith, and Moses Thatcher) to form a general superintendency of the Young Men's Mutual Improvement Association (YMMIA; see Young Men) and to supervise new central YMMIA boards or committees created first for counties and later for stakes. The Young Ladies' retrenchment association became the Young Ladies' Mutual Improvement Association (YLMIA) in 1878, with boards established in the stakes beginning that year and a Churchwide organization beginning in 1880 with Elmina S. taylor as president (see Young Women). The Primary Association, a new organization to benefit children, was started in 1878 in Farmington, Utah. After other wards copied the program, a Churchwide primary organization was created in 1880, headed by Louie B. Felt. Relief Society President Eliza R. Snow continued to supervise all women's work in the Church, which now included YLMIA and Primary. Elder George Q. Cannon of the First Presidency continued as general superintendent of the Sunday schools throughout this period. The Sunday Schools, Relief Society, and MIA were organized in the British Isles and Scandinavia beginning in the late 1870s and early 1880s.
Legal tangles surrounding the settlement of Brigham Young's estate became a bothersome problem for the Twelve. After federal legislation severely limited Church holdings, President Young had controlled a complicated mix of personal and Church property. His heirs and the Church finally settled the matter by compromise out of court in 1879.
In 1880, its fiftieth birthday, the Church proclaimed a Year of Jubilee, modeled on an ancient Hebrew custom, to give relief to the poor. It erased from the books an indebtedness of $802,000 to the perpetual emigrating fund—half of the outstanding total. In addition to distributing cattle and sheep to the needy, authorities forgave the worthy poor half their unpaid tithing. The Relief Society also lent nearly 35,000 bushels of wheat from its storage bins to help drought-stricken farmers.
After directing the Church for three years, in October 1880 John Taylor and the Twelve again organized a First Presidency: John Taylor, President of the Church, and George Q. Cannon and Joseph F. Smith, who had previously served in the First Presidency under Brigham Young, as counselors.
Revelations to President Taylor in 1882 and 1883 prompted a reorganization of the seventy. For the first time the seventy-six local quorums were organized on a geographic basis, enrolling all seventies within their respective boundaries. In addition, between 1884 and 1888, twenty-five new quorums were created. This reorganization revitalized the Seventy, and the number of seventies filling full-time missions increased as soon as the change was implemented.
This period also saw a growth in Church-related publications. Two new magazines served the youth: the contributor (1879-1896) for young men and the young woman's journal (1889-1929) for young ladies. The Morgenstjernen (1882-1885), a historical publication in Danish, continued in English as The Historical Record (1886-1890). The Sunday School published its first music book (1884), and the Book of Mormon first appeared in a Swedish translation (1878). In 1880 the Church accepted by vote the Pearl of Great Price as scripture, giving the Church the fourth of its standard works. It also published, in 1879, editions of the Book of Mormon and Doctrine and Covenants, with Elder Orson Pratt's chapter and verse divisions, cross-references, and notes.
President Taylor also implemented a new economic program. Less rigidly structured than the earlier united orders, it struck a balance between private enterprise and group economic planning. Zion's Central Board of Trade fostered cooperative economic activity by promoting business, seeking new markets, providing information to farmers and manufacturers, preventing competition harmful to home industry, and sometimes regulating wages and prices. Stake boards of trade coordinated with the central agency. Unfortunately, by 1885 anti-Mormon crusades forced these boards of trade to disband. Pioneer and presiding bishop Edward Hunter, who had served since the 1850s, died in 1883 and was replaced in 1884 by William B. Preston.
During the 1880s the Relief Society further developed programs that had begun in the 1870s: storing grain, maintaining ward Relief Society halls and commission stores, sponsoring nursing and midwifery education programs, overseeing the organizations for children and young women, watching over the spiritual well-being of LDS women, and improving the ongoing care of the poor. New developments included the 1882 opening of the Deseret hospital, Utah's second hospital and the first operated by the Church. The death of Eliza R. Snow in 1887 marked the end of an era for the Relief Society; in 1888 Zina Diantha H. Young replaced her as president.
Despite severe problems, Church leaders remained committed to providing the blessings of temples to more of the Saints. To supplement the one functioning temple in St. George, President John Taylor dedicated Utah's second temple, at Logan, on May 17, 1884. Built primarily with donated money, materials, and labor, it cost an estimated $800,000. A third temple, in Manti, Utah, built at a cost close to $1 million, was dedicated in 1888 by Elder Lorenzo Snow, a member of the Quorum of the Twelve. Work also continued on the larger Salt Lake Temple, begun in 1853, but not completed until 1893.
Colonization continued. Between 1876 and 1879, no fewer than 100 new LDS settlements were established outside Utah and more than 20 within the territory. LDS settlements in Arizona expanded rapidly. Stakes, formed in the vicinity of the Little Colorado River in 1878 and 1879, were absorbed into the newly created St. Johns and Snowflake stakes in 1887. Meanwhile, along the Gila and Salt rivers, the St. Joseph and Maricopa stakes were formed in 1883. New LDS settlements appeared in Nevada; in eastern Utah, where the Emery Stake was created in 1882; and in southeastern Utah and nearby parts of Colorado and New Mexico, where the San Juan Stake was formed in 1883. Many LDS converts from the southern states settled in the San Luis Valley in south-central Colorado, and in 1883 their settlements became the San Luis Stake.
Antipolygamy prosecution caused Church leaders to found colonies in Mexico and Canada, beyond the reach of U.S. laws. After President Taylor's 1885 visit to Mexico, hundreds of Saints poured into Chihuahua and established villages in a region that is still identified as Mexico's "Mormon Colonies" (see Mexico, Pioneer Settlements in). These settlements at first were part of the Mexican Mission. Within a decade more than 3,000 Saints had moved in, more settlements were established, and in December 1895 the Ju rez Stake was created to direct Saints in the Mexican colonies.
Under instructions from President Taylor, Cache Stake President Charles Ora Card located a place of refuge in southern Alberta in 1886 for Latter-day Saint colonists (see Canada, Pioneer Settlements in). The next spring, arrivals from Utah founded Cardston, fourteen miles north of the United States border. Settlements sprang up nearby in Aetna (1888) and Mountain View (1893). In June 1895 the Alberta Stake became the first stake organized outside the United States (the Salt Lake Stake excepted, then in Mexican territory).
Missionary work produced impressive successes and brought frustrating problems. Between 1879 and 1889 the Church operated a small mission in Mexico that had about 242 converts. In New Zealand a branch was organized among the Maoris in 1883. In 1884 Jacob Spori opened the Turkish Mission, which included Palestine. Numbers of missionaries bound for Europe increased. The gathering to Utah of European converts continued, despite anti-Mormon publicity that prompted U.S. officials to ask European governments to stop Mormons from emigrating. That request was not granted.
After a Southern States Mission was organized in 1875, conversions occasionally provoked violence. Missionaries were driven from some communities, and in 1879 a Georgia mob shot and killed Elder Joseph Standing. At Cane Creek, Tennessee, in 1884, a mob murdered two missionaries and two residents who had shown an interest in the Church.
Wanting to see their history told fairly, Church leaders provided extensive information to California-based historian Hubert Howe Bancroft. Bancroft's History of Utah (1889) was one of the first non-LDS scholarly histories to treat the Church in a fair light.
In 1879 the Supreme Court upheld as constitutional the Anti-Bigamy Act of 1862, affirming the illegality of plural marriage (see Reynolds v. United States). As new legislation was passed and prosecutions became more severe, polygamous husbands and fathers had four choices—give up their families, hide from the law, face prosecution, or leave the United States. Despite this crisis, President Taylor, declaring that when the laws of man and God conflict he would obey God, refused to desert his own plural families or to tell the other brethren to abandon theirs. Attacks on polygamy, often led by religious organizations, came from every direction. When national women's groups urged President Rutherford B. Hayes to prosecute Utah polygamists, 2,000 LDS women signed a resolution affirming that plural marriage was a religious practice protected under the Constitution.
Bitterness between the Saints and the gentiles brewed nationally and within Utah. Public pressure led Congress to pass the Edmunds Act in 1882, which mandated up to five years' imprisonment and $500 fines for polygamy, and up to six months and $300 fines for unlawful cohabitation (see Antipolygamy Legislation). Persons practicing polygamy or unlawful cohabitation lost their civil rights to serve on juries, hold public office, and vote. The law created a board of five commissioners to handle voter registration and elections. It declared children born of polygamists before January 1, 1883, legitimate, and it gave the president power to grant amnesties at his discretion.
The Utah Commission began its work in 1882 by declaring that anyone who had ever practiced plural marriage, even before the 1862 anti-bigamy law, could not vote. Since the commission required voters to take a "test oath," swearing that they were not in violation of the law, within one year the law disfranchised more than 12,000 Latter-day Saints. In 1885, however, the U.S. Supreme Court ruled that this test oath was unconstitutional.
The judicial crusade against polygamists severely disrupted Church society in Utah, Idaho, and Arizona. Polygamous men and their families suffered greatly, as did the Church as an organization. Otherwise law-abiding husbands and fathers—and some wives and children—became fugitives in a Mormon "underground," frequently moving from place to place to escape federal marshals hunting "cohabs." Saints developed secret hiding places in homes, barns, and fields, codes to warn one another, and spotters to watch for the marshals. Federal "deps" (deputy marshals) adopted disguises as peddlers or census takers and hired their own spotters to question children and neighbors and to invade the privacy of homes. Bounties were offered for every cohab captured. Families suffered, particularly wives left to tend farms while their husbands were in hiding. Wives who refused to testify against their husbands were sent to prison. Men, women, and children suffered long periods of deprivation and fear.
In Utah between 1884 and 1893, 939 Saints went to prison for polygamy-related charges. In Idaho and Arizona the Saints suffered from similarly harsh prosecution. When Arizona prisons became crowded, cohabs were sent to a Detroit penitentiary. One Utahan, Edward M. Dalton, was killed by a pursuing deputy, which embittered the Saints against the government. So did a U.S. Supreme Court ruling that a man who stopped living with his wife but who provided her food and shelter was guilty of cohabitation.
The crusade disrupted normal Church activities significantly. President Taylor avoided arrest by traveling. In the last public sermon he preached, he criticized what he called a judicial outrage, then went into hiding. Several apostles went into exile, taking special missions to remote areas in the West, Mexico, Canada, and Hawaii. Several others filled European missions and missions to Native Americans. Many stake presidents and bishops likewise tried to avoid arrest.
Between 1884 and 1887 general conferences were held in Provo, Logan, and Coalville, rather than in Salt Lake City, to help attenders avoid arrest. Few General Authorities attended. Elder Franklin D. Richards, an apostle who was immune from arrest because his plural wife had died, presided over some of the conferences. General epistles from President Taylor and President Cannon gave guidance to the conferences.
President Taylor directed the Church by letters. For more than two years President Taylor remained "underground," separated from most of his family and friends. He died in hiding in Kaysville, Utah, on July 25, 1887, after serving as a General Authority nearly forty-nine years. By the time of his death, nearly every settlement in Utah had been raided by federal marshals, hundreds of Saints had become refugees in Mexico or Canada, and nearly all the leaders were in hiding. At his funeral in Salt Lake City, he was honored for being a double martyr whose blood was shed in Carthage Jail with Joseph and Hyrum Smith and who then died in exile because of government persecution.
Once again the Council of the Twelve, led by senior apostle Wilford Woodruff, took the helm of the Church and steered the course, largely from the "underground," until they again established a First Presidency at general conference in April 1889. Elder Woodruff became Church President, and George Q. Cannon and Joseph F. Smith were his counselors. This would be the last time that the Twelve delayed reorganizing the First Presidency upon the death of the President. In December 1892, President Woodruff, indicating that prolonged delay was not pleasing to the Lord, instructed senior apostle Lorenzo Snow to reorganize immediately upon his death.
By 1887 national political leaders saw that the Church was not bending to the law, so Congress framed a tougher measure, the Edmunds-Tucker Act, designed to destroy the Church as a political and economic entity in order to force the Saints to abandon plural marriage. The law dissolved the Church as a legal corporation, required the forfeiture of all property in excess of $50,000, dissolved the Perpetual Emigrating Fund Company and claimed its property, and disbanded the Nauvoo Legion (territorial militia). To aid prosecutions, the law required compulsory attendance of witnesses at trials and confirmed the legality of forcing wives to testify against husbands. County probate judges, who helped impanel juries, had to be appointed by the President of the United States. Federally appointed officers took control of schools. Probate courts certified all marriages. The act disinherited all children born of plural marriages one year or more after the act was passed. Woman suffrage was abolished and a new test oath was designed. No one could vote, serve on a jury, or hold public office without signing an oath pledging support of antipolygamy laws.
Federal lawmen zealously tried to arrest and imprison Church leaders. President Woodruff stayed in the underground, near St. George, Utah, directing the Church by letter and private meetings. George Q. Cannon, President Woodruff's first counselor, was arrested in February 1886, posted bail, and then escaped into hiding until 1888 when, with a more lenient judge on the bench, he gave himself up. He served 175 days in prison and paid a $450 fine. Allowed visitors in prison, he was able to conduct much Church and personal business. He supervised the Sunday Schools and finished writing a biography of Joseph Smith. His presence buoyed up the spirits of his fellow cohabs in the prison. Latter-day Saints regarded these prisoners as martyrs and gave them gala receptions when they were released.
Arrests were a problem, but most damaging to the Church were its inability to acquire and use funds to further its work and the loss of political rights. To protect $3 million worth of real and personal property from confiscation, the Church asked prominent members to assume ownership of certain properties as trustees. Nonprofit associations were created to hold property, including the three Utah temples. Ward and stake associations took over local meetinghouses, tithing houses, and Church livestock. Many stakes established academies with the use of tithing that was returned to them by the Church.
Federal receivers confiscated about $800,000 worth of property not turned over to private parties or associations, then rented back certain properties to the Church, such as the Temple Block in Salt Lake City. Church leaders tested the constitutionality of the confiscations, but in 1890 the Supreme Court upheld the new law by a 5-4 vote. The economic destruction of the Church seemed certain.
Matching this economic crusade was a political assault. With all women, thousands of LDS men, and all convert-immigrants disfranchised, anti-Mormon politicians won control of the Ogden and Salt Lake City governments. In Idaho practically all Church members were disfranchised by a test oath requiring them to state under oath that they did not believe in or belong to a church that believed in plural marriage. When the Supreme Court in 1890 upheld the Idaho test oath, anti-Mormons pushed the Cullom-Struble Bill in Congress that would disfranchise all Latter-day Saints everywhere (see Legal and Judicial History).
Economically crippled and with its members denied political rights, the Church faced a ruinous future unless its practice of plural marriage was stopped. President Woodruff consulted with leaders and prayed earnestly to know what to do. After receiving divine revelation, he issued the manifesto on September 24, 1890, announcing an official end to plural marriage. "The Lord showed me by vision and revelation exactly what would take place if we did not stop this practice," President Woodruff later said. "He has told me exactly what to do, and what the result would be if we did not do it" (Deseret Evening News, Nov. 14, 1891). The Manifesto said that the Church had halted the teaching of plural marriage and was not allowing new plural marriages. President Woodruff said he would submit himself to the laws of the land and urged Church members to do the same. At general conference on October 6, 1890, the Church accepted the Manifesto. It was incorporated into the Doctrine and Covenants in 1908.
Speaking for the First Presidency, George Q. Cannon explained that a revelation from 1841 applied in 1890; it had instructed the Church that when "enemies come upon them and hinder them from performing that work, behold, it behooveth me to require that work no more at the hands of those…men, but to accept of their offerings" (D&C 124:49). Most Saints accepted the new direction, but not easily and not all. Indeed, a limited number of new plural marriages occurred in the next decade before Church leaders made it clear that all who persisted in the practice faced excommunication.
With the issuance of the Manifesto, hostilities ebbed and the Church entered a new era of cooperation. It was generally understood that husbands would not be required to reject their plural wives and their children, and local prosecutors became very lenient in punishing those charged with polygamy. U.S. President Benjamin Harrison, who in 1891 had visited Utah and shaken hands with President Woodruff, granted a limited amnesty to the Saints in 1893, followed by a general amnesty granted by U.S. President Grover Cleveland in 1894. After the Manifesto and the amnesties, General Authorities resumed their normal administrative duties.
Seeking statehood for Utah, Church leaders instructed Utah Saints to join the national political parties and become Democrats or Republicans. A Republican Congress passed an enabling act in 1894 that Democratic President Grover Cleveland signed. Utah wrote a new Constitution that prohibited plural marriage and ensured the separation of church and state. On January 4, 1896, Utah became a state, nearly fifty years after President Brigham Young first sought that status (see Utah Statehood).
In 1896 General Authorities accepted a "political manifesto" stipulating that none of them would run for elected office without prior approval of their presiding Church authorities. When Elder Moses Thatcher, an apostle, refused to sign the document, he was dropped from the Quorum of the Twelve.
During the 1890s the Church missionary force nearly tripled. In the Pacific region, missionary work penetrated into Samoa in 1888 and Tonga in 1891. In 1898 the Australasian Mission was split into the Australian and the New Zealand missions. Some Hawaiian Saints immigrated to Utah and created a settlement at Iosepa in western Utah. Missionary work was resumed in California in 1892 and in the eastern United States in 1893. Proselytizing continued in Europe, though emigration from there declined by 50 percent in the 1890s compared with the 1880s. By the 1890s the Church, with its base in America secured and most good land in the West occupied, discouraged immigration and asked overseas converts to build up stakes in their homelands rather than gather to Zion.
The Edmunds-Tucker Act strengthened public schools, which excluded religious education. In response, the Church began holding after-school religion classes in meetinghouses and established academies or high schools in larger settlements. Between 1888 and 1891 thirty-one LDS academies were opened in Utah, Idaho, Arizona, Canada, and Mexico.
The 1890s saw Church women extending their reach and demonstrating their political rights. Continuing their affiliation with eastern women's movements, they became charter members of the National Council of Women and found their eastern associates to be important allies in their fight against disfranchisement. Relief Society-sponsored suffrage activities led to the inclusion of guaranteed woman suffrage in the 1895 Utah State Constitution.
After forty years, construction of the Salt Lake Temple was completed and dedicated in April 1893. Following a brief open house on April 5, the first opportunity for nonmembers to tour a temple, the sacred edifice was dedicated on April 6, forty years after the laying of the cornerstone. The dedicatory services were repeated between April 6 and May 18, and included five sessions reserved for children under the age for baptism; about 75,000 Latter-day Saints attended. Thereafter members of the Church entered the temple only to perform ordinances for the living and the dead. The following year President Woodruff announced by revelation that LDS family groups no longer needed to be sealed to prominent priesthood leaders by adoption (see Law of Adoption), but that they should be sealed by lineage as far back in time as possible. As a result, members began pursuing genealogy and performed sealing ordinances for ancestors several generations back. The Church created the genealogical society of Utah to assist researchers.
In 1893 the Salt Lake Tabernacle Choir, while on a major tour, sang at the Chicago World's Fair, winning second prize in an important contest. The entire First Presidency traveled with the choir, marking the first time a Church President had traveled east since the migration to the West nearly fifty years before. This performance was indicative of a new public image for the Church, though that same year the Church was denied representation in the World's Parliament of Religions, which also met in Chicago.
There were other significant developments under Wilford Woodruff's direction: in November 1896, the Church's monthly Fast Day was changed from the first Thursday to the first Sunday of each month, a practice that continues; in 1897, the custom of rebaptism was ended. In the same year, Wilford Woodruff, himself a pioneer of 1847, presided over a Churchwide commemoration of the first entrance into the Salt Lake Valley fifty years before. Salt Lake City celebrated with parades, programs, and the unveiling of a Brigham Young Monument.
During the 1890s the Church and Utah joined the American mainstream economically as well as politically. Many cooperative ventures became private, and most Church-controlled businesses were sold or started to compete as income-producing enterprises. But integration into the national economy was not painless. The earlier confiscation of properties and decrease in the payment of tithing caused by the antipolygamy crusade hurt the Church severely, as did the national depression of 1893. Leaders were forced to borrow heavily from eastern financiers to pay debts and meet obligations, and by 1898 the Church's debts exceeded $1,250,000. However, despite debt and a national depression, the Church promoted and invested in such basic industries as beet sugar manufacturing, hydroelectric power, and selected mining and transportation ventures to help expand the economic base of the Great Basin and benefit Latter-day Saint communities (see Economic History).
With the ending of plural marriages, the achievement of statehood for Utah, and entrance into the American mainstream in terms of politics and finances, Latter-day Saints moved firmly into a new era. One measure of the change was Church response to the Spanish-American War in 1898: the First Presidency encouraged LDS young men to support the national effort, thereby demonstrating LDS patriotism and loyalty.
President Wilford Woodruff died on September 2, 1898, in San Francisco, California, at the age of ninety-one. In accordance with his instructions, a new First Presidency was immediately named, with Elder Lorenzo Snow becoming the Church's fifth President.
(See Daily Living home page; Church History home page; 1878-1898 home page)
Illustrations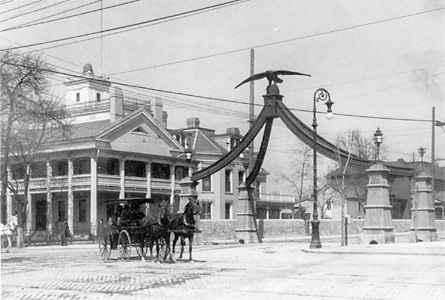 Eagle Gate in Salt Lake City with the Beehive House in the background, c. 1900. Courtesy Rare Books and Manuscripts, Brigham Young University.
Bibliography
Alexander, Thomas G. Mormonism in Transition: A History of the Latter-day Saints, 1890-1930. Urbana and Chicago, 1986.
Arrington, Leonard J. Great Basin Kingdom: An Economic History of the Latter-day Saints 1830-1900. Lincoln, Neb., 1966.
Larson, Gustive O. The "Americanization" of Utah for Statehood. San Marino, Calif., 1971.
Lyman, Edward Leo. Political Deliverance: The Mormon Quest for Utah Statehood. Urbana and Chicago, 1986.
Roberts, B. H. A Comprehensive History of The Church of Jesus Christ of Latter-day Saints, Century I, Vol. 6. Provo, Utah, 1965 (reprint).